I just returned from two weeks spent in Texas, one of the states in which
Obesity assists Christian Endeavor.
I went to Texas in order to experience Nature firsthand, so I went with my friend Peter, who is a desert ecologist. Desert Ecology is one of those disciplines that begs comparison with John Cage's musical composition
4' 33"
, in which content is necessarily at a minimum (it's a desert, after all). So we went to these deserts and we didn't see a whole lot except javelinas, which are unpleasant even when not approached and which I understand are the only North American pigs.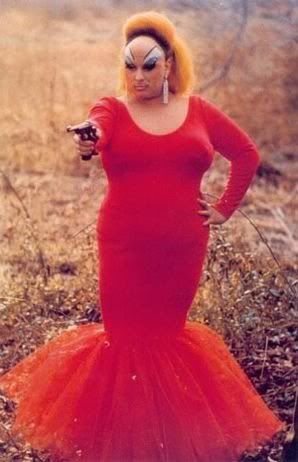 Divine, the Other White Meat
I met lots of nice people in the campgrounds, many of whom had come to Texas for the catfishing
, which is said to be spectacular. As it was a desert, however, no one seemed to be having a great deal of success. These folks were despondent of their chances and, as their vacation dwindled away, were considering the prospect of trying another place, maybe a place with "Lake" in the name. I suggested Lake Erie.
But I was there to recreate, as they say. A successful vacation should refresh the mind, bring new insights and perspectives with the change in scenery, so I thought of this Texas sojourn as a sort of blogger's holiday, or "blogiday," an opportunity to escape the pressures of regular blogging for money and refresh the fund of ideas. Instead I rode my bicycle.
Riding a bicycle in the desert requires that you be aware of the landmarks, the geological features in particular. Many of these features seem to be named for the devil's various body parts and accoutrements - the
Devil's Thumb
, Eyebrow, Nose, Needle, Playground, Jawbone, Hedge Fund, and so on. I chose for my turnaround point the Devil's Foreskin, by which I demarcated a particularly notable geological prominence situated at the apex of a three-mile climb. (Geological prominences in a forbidding landscape should have august names, so I thought 'foreskin' had more gravitas than, say, its Yiddish cognate
'schmeckel.'
)
At the top of this three-mile hill I met a group of Texans, fellow cyclists whom I had been meeting occasionally along the road as they passed me, all of whom applauded my ascent in the 90-degree heat, offered me their lunches, some chocolate chip cookies, God's undeservd blessings, and made me regret having ever aspersed any of their fellow citizens.

One thing I brought away from this relaxing time was the ability to keep my own counsel, to refrain from blurting the first thing that springs to mind. For example, whilst admiring the grandeur of the evening sun setting on El Castolon, the iconic formation in Big Bend National Park, I thought to myself (but did not say aloud), "Hey! that looks like a giant hat!" My patience was quickly rewarded by the fellow behind me, who promptly said it for me.
Likewise, standing awestruck in the bowels of Carlsbad Caverns, wanting to but daring not speak its name, I heard in the semi-darkness of the cave a fervent voice: "Hey! That looks like a giant asparagus!"
New ideas are hard to come by, even on vacation.